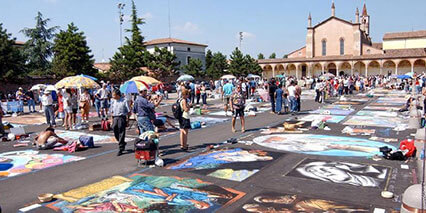 Fiera delle Grazie
From August the 13th to August the 16th the famous, antique Fiera delle Grazie will be back, thanks to the city of Curtatone (MN), one of the most beautiful villages in Italy.
The Fair, with its unique mix of art, culture and gastronomy, will have its highlight, as per tradition, throughout the evening of the 14th of August and during the day of the 15th of August, when the Sanctuarys square is invaded by the colours of the masterpieces of the 150 chalk street artists (commonly known as Madonnari) from Italy and abroad. The 46th National Meeting of the Madonnari will have a jury composed of prominent celebrities, whose names will be revealed closer to the time.
In addition, the very ingredients that make this fair so very unique will not be forgotten, the Musical events, shows and cultural events, the market of exhibitors from all product categories, the amusement park, the gastronomic delicacies and the pyro-musical closing show.